Advanced Troubleshooting Simplified

Talon Encoder Checker Meter
Test your Encoder with CONFIDENCE!
The Talon Encoder Checker can pay for itself the first time you use it to repair or confirm a bad or malfunctioning Encoder.
Use it to:
Test digital Encoders (5, 12, & 24 Volts)

Troubleshoot Digital Read Outs (DRO's)

Count / verify Pulses Per Revolution (PPR)

Adjust Encoder after cleaning or repair

Test for weak or dead signal output

Test for intermittent phase jitter

Check phase angle

Check duty cycle
Detects the leading cause of inaccurate motion!
Oscilloscopes can be used to test Encoders but for some they can be difficult to operate and they require additional equipment to provide a full and accurate test.


The Talon Encoder Checker combines the accuracy of an Oscilloscope with all the support electronics to properly load the Encoder output, the only way to properly test an Encoder.


Save time and money by investing in a reliable instrument that is very easy to use and designed specifically for Encoder testing. Comes with our manual that will step you through each test ensuring accurate results.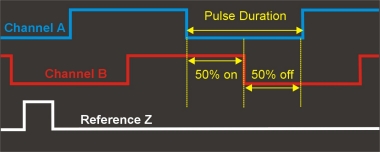 Determine Phase:
A perfect Encoder should have a pulse output pattern like the one shown to the left. When Channel A is on, Channel B should be on 50% of the time and off 50% of the time. The Talon Encoder Checker will display the ratio of time on and off for the measured Channel. This is useful for tuning, especially in high speed applications.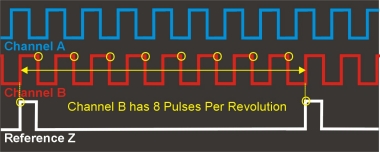 Count pulses:
Pulses Per Revolution can be measured quickly. When the reference signal is received the pulse counter starts then stops when the reference signal is received again. This is useful when troubleshooting intermittent problems and damaged disks. Can also be used on encoders with no reference signal.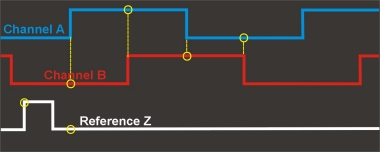 Measure Voltage:
When Channel A changes state, the meter measures the voltage of the Channel B pulse. When reading a reference signal the voltage measurement is taken after a set period of time has elapsed since the signal changed state. This meter also provides Min/Max voltage of pulse. This is useful when confirming the Encoder has enough output for the device it is connected to.

Specifications:

Power = 24VDC @ 400mA adapter - Included

User = Keypad on front of unit with scroll through menu.

Transition cable = Standard cable with tinned ends included. We can provide cables with sockets, pins, or encoder specific connector installed.

Modules = As delivered UEC will test 5V encoders with no load. Modules available for higher voltages and/or current load. See chart below:

New Modules Available:

SSi 13-bit and 25-bit encoders (can be setup for a particular encoder)

DirectNET™ encoders

Magnetic speed and direction motor sensors
Pricing

- discounts available for multiple unit orders.

UEC - With manuals, power adapter, and transition cable w/ tinned ends = $679.99 each

Modules - See chart above or call us for part number = $50.00 each
Custom modules for any application = $Call for pricing

Transition cables - With large or small sockets / pins = $50.00 each
Transition Cables with encoder specific connector = $Call for pricing



Interested in becoming a distributor of this product? - Territories available - Contact us today!
As seen in HomePower Magazine